On October 1, Caritas organizations from South-East Europe (Serbia, Bosnia and Herzegovina, Montenegro, Kosovo* and Albania), together with Caritas Italiana and Caritas Bulgaria, launched a regional campaign to celebrate the World Mental Health day, October 10. The campaign aims at raising awareness of the importance of mental health prevention, reducing prejudices and fighting the stigmatization of people with mental disorders. Therefore, it is promoted under the slogan "IT CAN HAPPEN TO ANYONE".
It is estimated that about 450 million people suffer from some kind of a mental disorder. Two thirds of them never ask for help, because they are ashamed and fear a brutal reaction of the community. People with mental disorders are often stigmatized, discriminated and neglected from society, even from their closest ones. With this campaign, the seven Caritas organizations want to point out that mental disorders are real diseases, like all others, cardiovascular or pulmonary, and that with appropriate care they can be efficiently treated, especially if the treatment starts on time.
From October 1, every day for three weeks, Caritas organizations from South East Europe (SEE), through their social networks, will share a new post with a message linked to the main slogan. The 15 illustrations will spread the message that a mental disorder can happen to anyone: Anyone can explode, Anyone can burn out, Anyone can fall apart, Anyone can sink etc.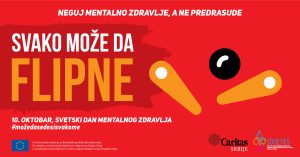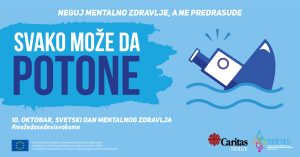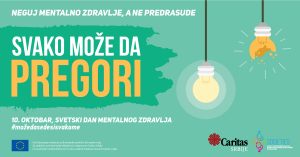 Within the campaign, an international contest was organized searching for the best graphic solution that will follow the campaign slogan IT CAN HAPPEN TO ANYONE.
The winners will be selected through an online voting that will last until October 10.
The contest, the media campaign and public events on October 10 across the region are all part of this year plan to have a regional dimension and spread these important messages together. For more information, please visit: http://projectsocieties.org/
Unlike people, the mental disorders do not discriminate and they can affect anyone, anytime, regardless of age, sex, intelligence, education, income. Nobody is immune! It can happen to anyone!
The campaign was also supported by the bishops of Serbia, who took a photo together, holding the words of the slogan "It can happen to anyone".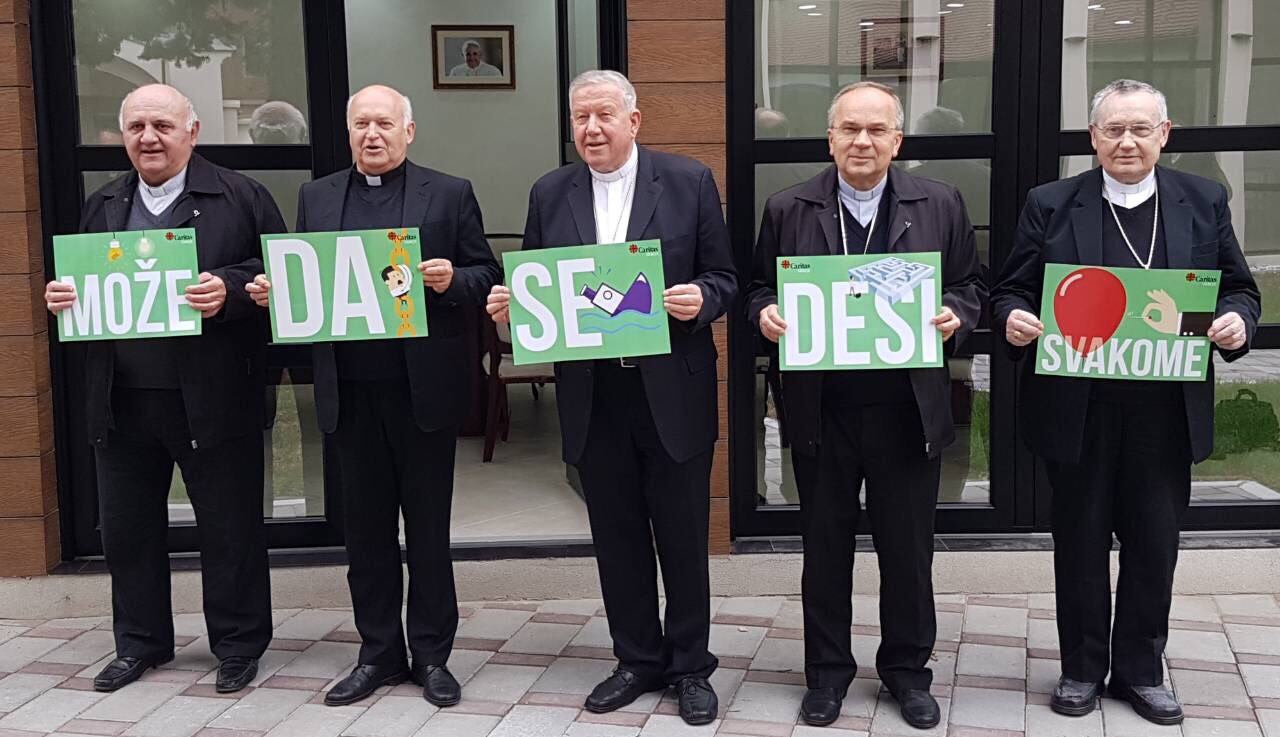 The campaign is part of the project SOCIETIES, a regional project financed by the European Commission and implemented in 5 countries of South-East Europe: Albania, Bosnia and Herzegovina, Kosovo*, Montenegro and Serbia, with expertise and good practices from EU member countries, Italy and Bulgaria. Project SOCIETIES aims to assist civil society organizations in upgrading technical skills, or to contribute to the social inclusion of people with disabilities through the implementation of EU standards in South East Europe. The implementation of the project involves 16 partner organizations. The projected duration is 48 months, until the end of 2019.